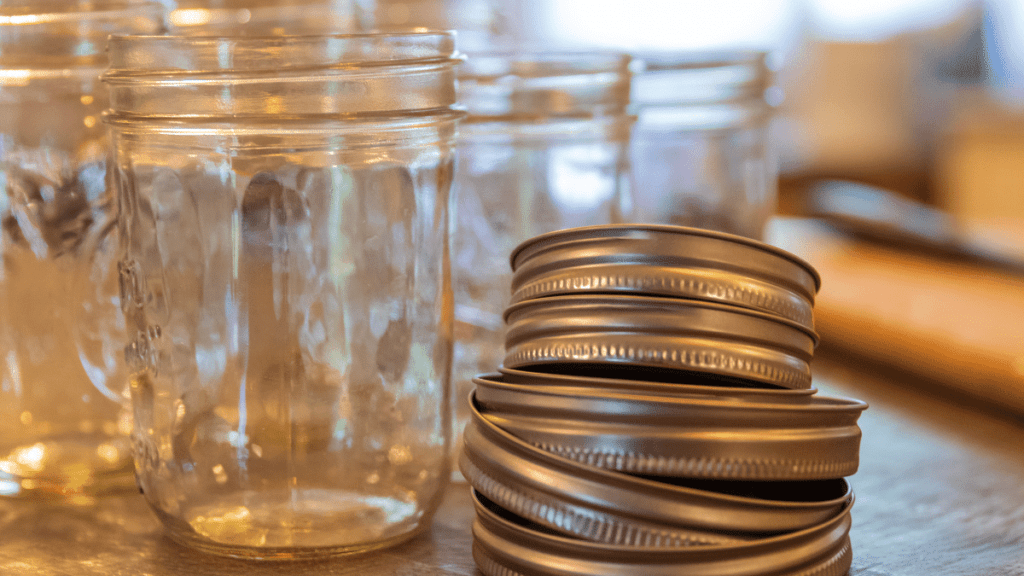 Nowadays, canning jars are used for more than just canning! Of course, many of us still use them for our pickles and preserves, but they are also great for packing lunches, drinks, leftovers, and general storage.
But, they can start to spoil over time – do you know how to remove rust from canning jar lids? 
As efficient as they are at keeping everything inside airtight and sealed, canning jar lids are also prone to rust. Sometimes, the rust can form through the environment they were left in, as a result of the contents inside of the jar, and so on.
Thankfully, it's easy enough to clean them up with a little elbow grease – believe me, I've done so myself (many times)!
Let's take a closer look at why canning jar lids rust, whether or not you can still eat with them, and how you can remove the rust yourself. 
Why do canning air lids rust in the first place?
If you are new to canning your own food, then it may be a shock to see your canning jar lids beginning to rust. Sadly, even if we look after them perfectly, clean them every day and dry them properly with a towel, they can still develop unsightly rust – it's to do with moisture.
As is the case with all kinds of rust, the rust on your canning lids is caused by the build-up of dampness against the lid. The water reacts with steel on your lids when left for too long or if soaked repeatedly. This creates iron oxide, leading to those nasty orange patches!
As strange as that may seem, think of the moisture content in your salads, sauces, dressings, soups, and so on. Even a small amount of moisture can cause damage to a canning jar lid – even to the fanciest of mason jars, too.
Are rusty canning jar lids dangerous? 
Generally speaking, no, rusty canning jar lids aren't dangerous. Iron oxide is not harmful to us – however, that doesn't mean you will want to ingest metal lumps with your lunch!
The biggest issue with rusty canning lids is that the rusty patches tend to grow in size until cleaned off.
Eventually, they will damage the seals on the lids, making them less airtight and less likely to keep the contents safe and fresh – defeating the object of canning in the first place. 
Of course, if left for too long, rusty lids will begin to crumble away, leaving you without any seals for your canning jars. If you start to see rust on mason jar lids, it's good to take care of it as soon as you can.
How to remove rust from mason jar lids
To get started, all you will need is a bowl, a cloth, and some distilled white vinegar. 
If the rust is emerging on your lid(s) in small patches, you can use the cloth to rub some distilled white vinegar over the surface. Ideally, the cloth should be soaked in vinegar for an easier job.
White vinegar is a natural substance that is completely safe to clean with – and the smell also won't linger on the canning lids, so do not worry about it affecting your food! 
However, if you're really not keen on having vinegar on your hands, then try wearing some dish gloves as you wipe to protect your skin. If you have sensitive skin like me, this is all the more worthwhile.
Once you have removed the rusty patches and any orangey traces that might be left on your canning jar lid(s), take a wet sponge and some warm and soaped-up water to clean them down. This should remove any excess vinegar and potential traces of rust that remain. 
Do not be tempted to leave your lids to air dry when you have finished washing up! Instead, take a clean, dry cloth, and buff them completely before putting them away.
Leaving them to air dry will encourage moisture, and thus, you're back at square one again before you know it.
On the other hand, if you're dealing with a canning jar lid that happens to have a lot of rust, or is even covered in it, then there's no point wasting your energy with a vinegar cloth. However, that does not mean that the canning jar lid(s) in question aren't salvageable. 
Place the lids in a bowl full of distilled white vinegar. Leave it to soak for a while, or at least until you see all of the rust disappear. 
If, even after a while, the rust is still persisting, then take a steel wool scrubber to scrub off any of the remaining orange. 
Then, again, once the lid is completely clean, wash it in a bowl of soapy water with a clean, wet sponge. Once it's all done, dry it with a clean, dry towel, and put it away. 
If the rubber rings around your canning jar lids have also developed rust, then remove them from the lid and place them in a bowl of distilled white vinegar.
Wipe around them until the rust is gone, give them a good clean, then place them back inside the lids (once they, too, have been cleaned and dried), and put them away. 
Will clean canning jar lids be safe to use with food again? 
Yes, once your canning jar lids have had rust safely removed, they will be perfectly fine to use with all kinds of food and drink.
As mentioned, distilled white vinegar does not leave a smell, which is why it is increasingly used in home cleaning products. It is also completely natural, making it safe to eat after or even with.
So, if you happen to have some remnants of the vinegar in your canning jar lid, you won't need to worry about lingering smells or tastes.
It's also a common misconception that rusty lids need special sterilization. That's not the case – while you'll need to sterilize your jars themselves before use, cleaning the lids is just as easy as soaking them in a little vinegar before rinsing and drying clear.
Sadly, however, this solution is not a permanent one. It will not leave a protective film over your canning jar lids and will, therefore, not be the last time you have to get rid of rust!
One of the best ways you can stave off rust on mason jar lids in future is to avoid leaving them to dry in a drainer or similar. These lids will always need towel drying – otherwise, you run the risk of rust appearing time and time again.
On the bright side, vinegar-soaking is an incredibly affordable, natural, sustainable, and efficient way of cleaning your lids. So, as soon as your canning jar lids start to go a little orange or brown again, simply break out the distilled white vinegar, and you'll be good to go! 
Can a canning jar lid be too rusty to clean? 
Yes, in some cases, even a bowl full of white distilled vinegar is not enough to save a canning jar lid! 
If the rust has spread over a large section of surface, or if even the entire lid has begun to chip away, then there is not much that the white vinegar can do. As you try to scrub it clean, you are more likely to keep removing pieces from the lid, which will cause irreparable damage. 
If your canning lid has reached this point, then it is time to throw it away. A lid that's flaking away or even completely disintegrated is simply not going to do its job.
However, that doesn't always mean it's the end of the road for your rusted lids – you can use them elsewhere in the home, just not for canning!
Some people use rusty canning jar lids for art projects, so you can always ask around those you love to see if anyone would be interested in them as a more sustainable way of getting rid of them. It may even be worth diving into a few upcycling craft ideas yourself if you're the creative type!
However, you should always keep the mason jar that the lid belonged to, as it can be used for plants, drinks, and general storage. Just because it doesn't have a lid anymore doesn't mean you have to cast it out to retirement!
Conclusion 
As dangerous and damaged as rusty metal may seem, it's not necessarily 'the end' for your mason jar lids. We have all grown up thinking that something rusty was something unsalvageable, but that is simply not the case! 
As you can see, it could not be easier to save with canning jar lids. You can save a fortune on canning jars, reduce your waste, and have sheer pride in knowing that you have saved something that could have been thrown away just by using some vinegar and a cloth! 
Remember that it is always easier to clean a smaller patch of rust than it is a bigger one. So, the quicker you get on getting rid of the patches, the better. In fact, as soon as you see even the slightest discoloration or change in feel on your lid, it's time to break out the vinegar.