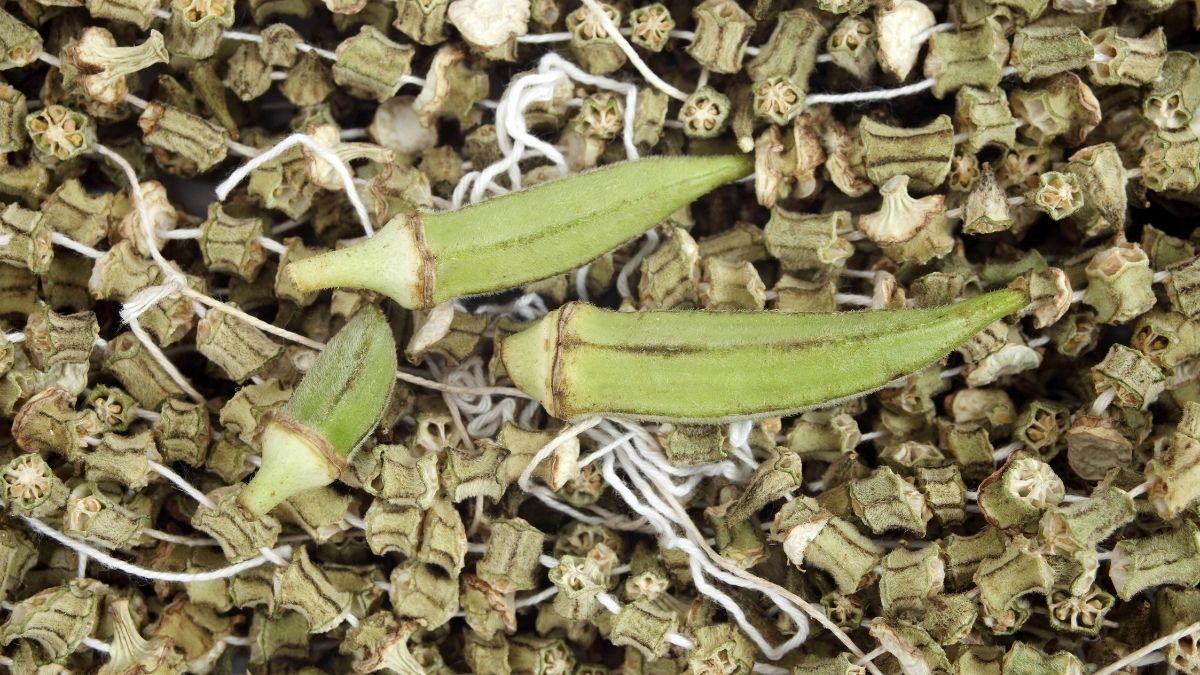 Crafting with okra is a fun and frugal way to use up pods that you won't be able to eat. While you might already have a few ideas in mind, you may be unsure how to dry okra for crafts without destroying the pods.
If so, then you don't have to worry. I will give you all the details you need to prepare your okra for crafting. I've tried them myself – and I guarantee you they work great!
Are you in a hurry? Here's the quick answer:
Air frying is fast and protects the pods from burning or being damaged by insects. Just make sure to leave time for the pods to cool! Drying times can vary from one model to another, but you can get your okra ready for crafting in under an hour.
Read on for a complete step-by-step guide of each method!
Dehydrating Okra With an Air Fryer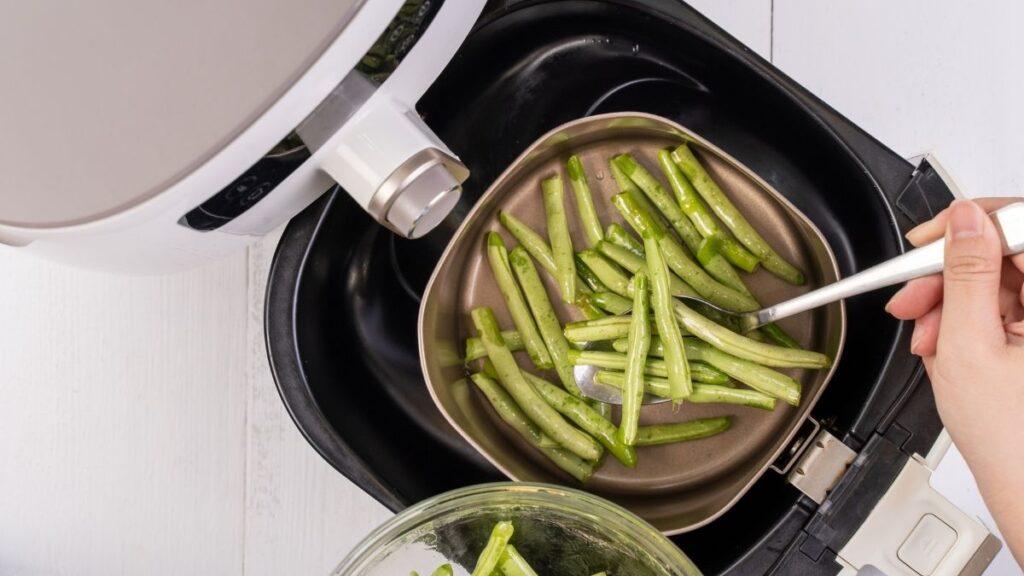 An air fryer makes it possible to dehydrate okra in as little under half an hour. You'll put the okra pods in the air fryer in a single layer. Then, set the temp to 270 degrees, and check on them after 15 minutes.
The first step to using this method is to wash the pods thoroughly. Once you've washed away any surface residue, you'll want to start the drying process by hand drying the pods.
COSORI Air Fryer, 5 QT, 9-in-1 Airfryer Compact Oilless Small Oven, Dishwasher-Safe, 450℉ freidora de aire, 30 Exclusive Recipes, Tempered Glass Display, Nonstick Basket, Quiet, Fit for 2-4 People
CUT DOWN 85% OIL :With 360° rapid heat circulation technology, feel free to enjoy the same crispy textures as traditional deep frying with up to 85% less fat
ENJOY MEALS IN MINUTES: This air fryer cooks with industry-leading temperatures up to 450°F, making heating efficiency 20% faster than before. Help you prepare a quick meal.
9 EASY FUNCTIONS: 9 one-touch cooking functions on a tempered glass display let you preheat and add personalized Shake Reminders. Let's add some fun to the cooking process
You can gently wipe away the water from washing with a towel, or you can lay them out on a towel and allow them to air dry. Either way, manually drying them helps speed up the drying process once they are in the air fryer.
Once your pods are ready, you are prepared to dehydrate okra in an air fryer. You can skip the oil and seasoning since you won't be eating them. Just spread the okra pods out on the rack in the air fryer. Make sure to make one layer so that the hot air can circulate each pod properly.
Then, set the air fryer to 270 degrees. At this temperature, the okra pods should be dried out in around 15 minutes.
If they still seem moist, then give them a couple more minutes. Once they are done, you can remove them from the oven and let them cool. The dried pods will keep well in an airtight container until you are ready to start your crafting.
Drying Okra In the Oven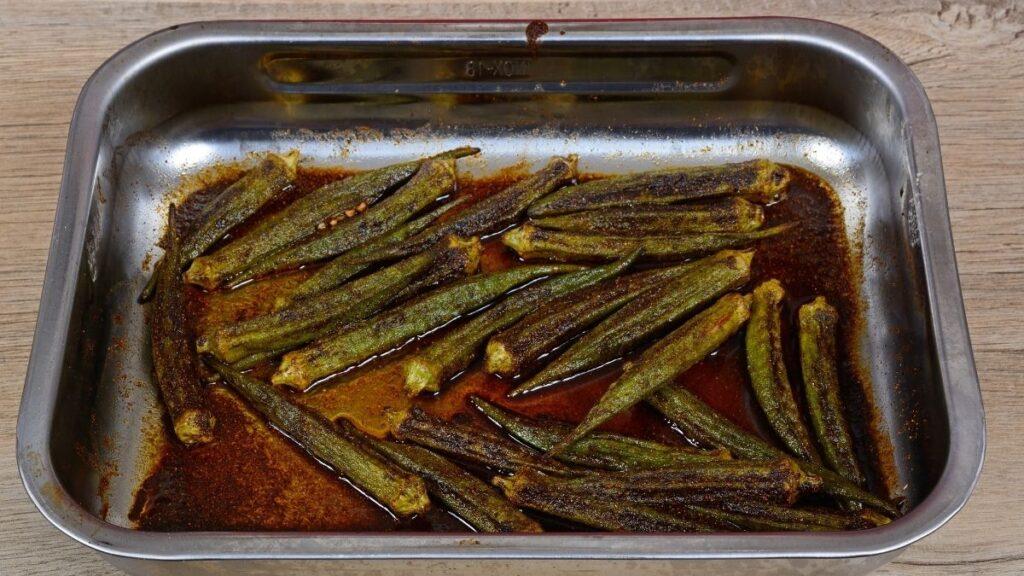 Dehydrating okra in the oven is as easy as doing it in the air fryer. Put the pods on a baking sheet, and bake them in the oven at 150 degrees Fahrenheit. This method takes around three to four hours before you see significant drying. It just takes longer.
You'll start by washing the okra pods just like you would if you were using the air frying method. After that, learning how to dry okra in the oven is as simple as any other type of baking.
You can begin by lining a baking sheet with foil to help clean up. Occasionally, okra may ooze a bit of the liquid inside, which can get baked onto the pan.
Once you've accomplished this step, just lay the pods out on the baking sheet and put them in an oven that is pre-heated to 150 degrees.
The length of time it takes to dry okra in the oven depends upon factors such as the size of the pods and the humidity level inside your house. Start by checking them at around three to four hours.
This is also the perfect time to give them a good turn so that each side gets evenly heated. While your pods might be done drying out this early, they may take as much as 12 hours or more. Keep in mind that low and slow is the way to go.
Getting impatient and turning up the oven could cause the pods to burn.
Drying Okra In the Sun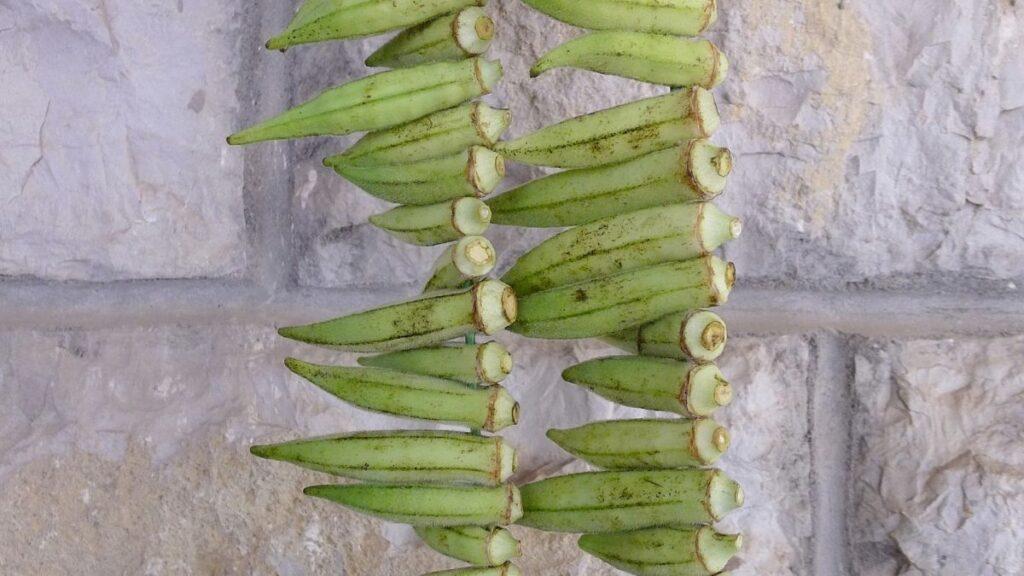 Solar drying is an eco-friendly option since it doesn't require any energy usage from inside the home! Find a place outside where you can put the okra out on a tray to soak up the sun. Then, let the pods sit for three to seven days.
Now that you know how to sun dry okra, just prep the pods by washing and drying them. Then, place them on trays in a single layer.
Since the pods will be potentially exposed to bugs, you might prefer to cover them with a screen. You'll also want to place the trays on a surface where they can remain undisturbed by animals and kids who might be curious about what you are doing.
If you prefer to keep them high off of the ground, you also can hang okra to dry. Just gather up the okra and tie the bundle together with some string.
Then, hang it up in an area where the air and sun can do their thing. The time it takes to dry okra in the sun depends on whether or not there are cloudy days or levels of high humidity in the air.
Usually, you can begin checking on the pods at the three-day mark, but it could take as long as a week for the pods to dry out completely.
Craft Ideas Using Dried Okra Pods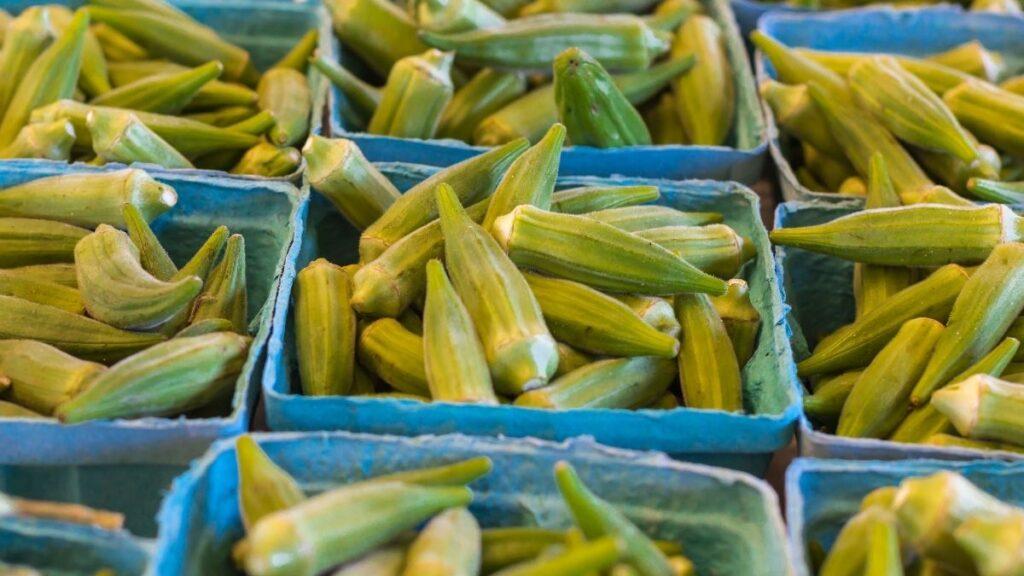 Once you've created a little stockpile of natural crafting materials, it is time to start using dried okra to create cute and fun projects.
The sky truly is the limit for making things with okra, so feel free to exercise some creativity. To help you start cooking up ideas, here are a few fun projects to turn your dried okra into a work of art.
Holiday Ornaments
You'll see okra used to make various holiday ornaments, and choosing natural crafting materials works great for rustic and farmhouse themes. The slender pods work great for creating a long Santa beard, or you can arrange several into the shape of a star.
Door Wreaths
Dried okra is perfect for filling out a wreath because it works with a variety of themes to fit any season. In the spring and summer, the dried okra gives your wreath a whimsical look that brings thoughts of gardening to mind.
Later in the year, you can use the okra as-is to contrast the fall colors. Or, you can paint the pods red and green to ring in the holiday season.
Colorful Lizards
The long pods mimic the end of a lizard's body perfectly! Try painting the pods to create the lizard look you want. Then, use modeling clay to create a head and feet to finish your cute adorable lizard figurine.
What's more, you can even use Okra as fun paintbrush alternatives with which the kids love to make unique paintworks.
So, there you go! Learning how to dry okra for crafts is not hard at all, and you've got your pick of several methods that are all great for prepping the pods for your favorite project. Now, all you have to do is pick your preferred method and get ready to turn out beautiful okra creations that you'll love showing off!
You can also learn other drying methods like how to dry corn husks for crafts which is another fun crafting opportunity you and the kids can get stuck into.
Ultimately, okra is a brilliant crafting resource – and providing you dry it off properly, you can create a whole universe of wonderful bits and pieces!
Last update on 2022-09-05 / Affiliate links / Images from Amazon Product Advertising API