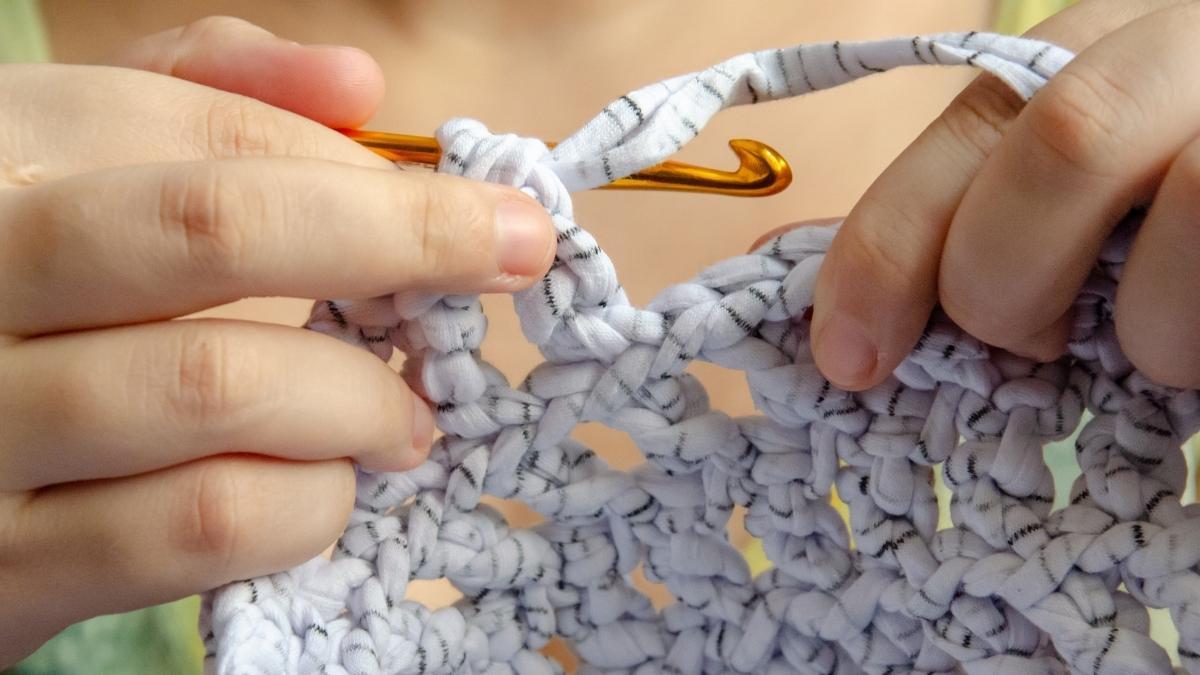 Crochet is a pretty excellent multi-tasking hobby for those with good hearing, but if you ever really want to watch a show while you're working, you're mostly out of luck. Stealing a few glimpses at the screen is good enough for most, but what if it were possible to get every juicy detail on the screen without missing a stitch on your project?
In this article, I'm going to teach you how to crochet without looking, so you can stay engaged with your visual media, save your neck, and get work done simultaneously.
In a hurry? Here's the quick guide:
To crochet without looking at your work, stick to stitches with large gaps like the granny stripe and the v-stitch. Feel where to insert the stitch with your yarn-holding hand and hold your hook in a pencil grip to be more accurate with your reach. 
While it's easier, especially for those who aren't quite an expert yet, to crochet with looking by relying on certain stitches, it is possible to crochet without looking for more intricate stitches that require the hook to go into the "V."
If you're looking for ways to practice this skill, some things that might cause hang-ups, and specific crochet techniques that are conducive to working blind, then you might want to stick around for the rest of the article.
Best Stitches For Crocheting Without Looking
The granny stripe and v-stitch are much easier stitches to practice when learning to crochet without looking. These stitches have chain gaps where you'll insert your hook in the next row, making it easier to feel out than with other single stitches.
The Granny Stripe Stitch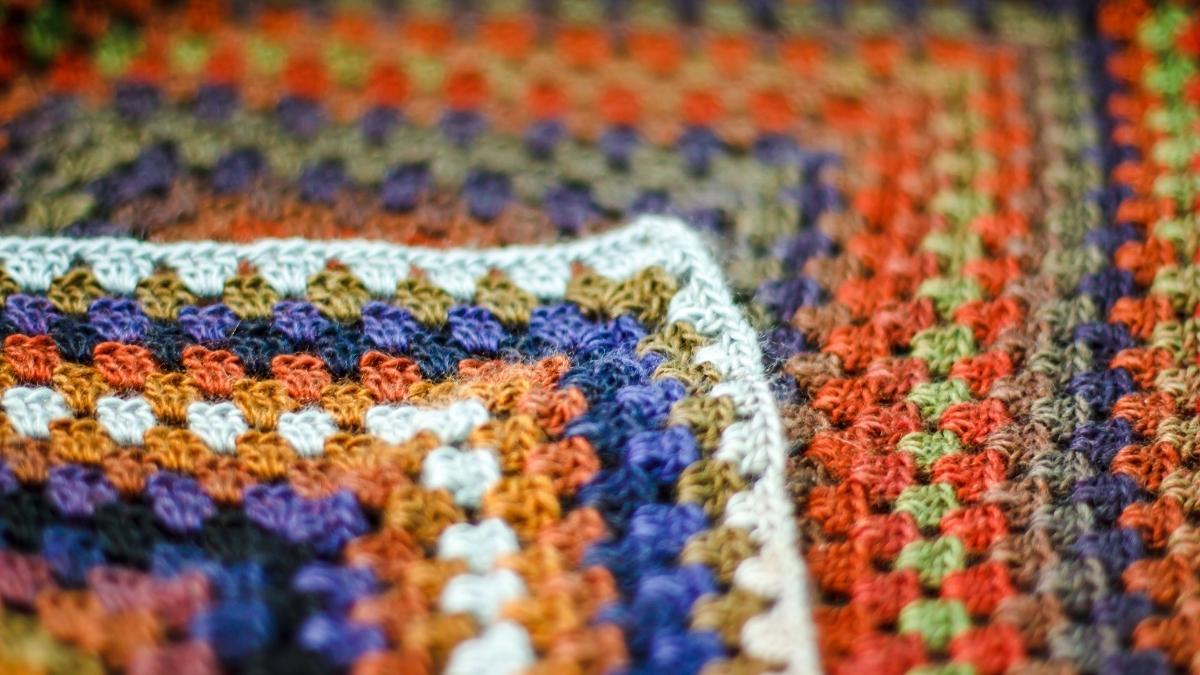 The granny stripe stitch, often used in granny squares, is probably the best stitch to practice crochet without looking. This stitch will create clusters separated by large chain spaces that will be easier to feel with your off-hand.
To begin, start with a chain in a multiple of three. Create a row of single crochet, then chain two. Double Crochet (DC) in the first stitch, skip two stitches, then crochet three dc into the third stitch from your first dc. Repeat this pattern until the end of the row, where you will only crochet two dc in the final stitch.
As you'll notice, this pattern creates large gaps between stitches where you've skipped two. This allows you to easily feel where to insert your hook with your yarn-holding hand. On your second row, you'll chain two, then crochet three dc into the spaces along the row. You'll only crochet one DC into the last stitch at the end of row two. 
For row three, you'll crochet the same as you did for row one. For row four, you'll repeat row two, and so on.
The V-Stitch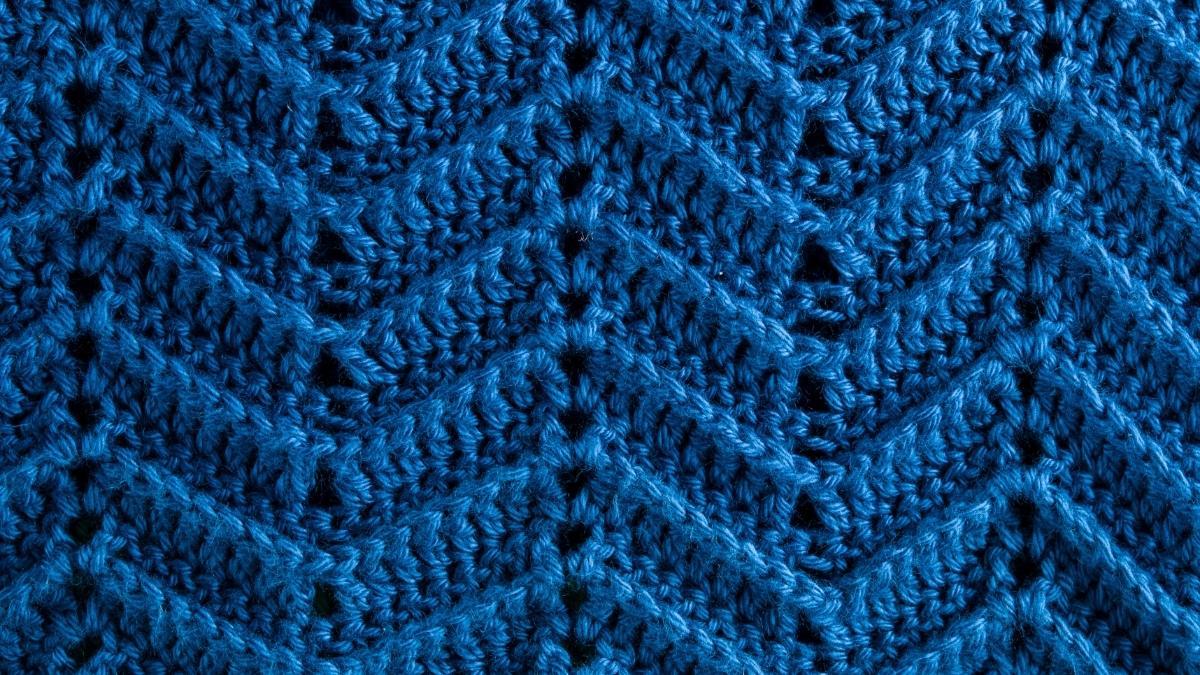 To start the v-stitch, create a foundation row in a multiple of three. In the fourth chain from the hook, work a double crochet, chain one, and then double crochet in the same stitch. Skip two, then work another v-stitch down the row.
You'll start with a chain two and turn when you move to the second row. Be careful when looking for the gap. Don't crochet into the space on either side of the v-space: double crochet, chain one, double crochet into the chain one space.
It may be difficult to tell at first where to put the next v-stitch, but after the second row, it will be much easier to tell. When crocheting with the purpose of not looking at your work, practice feeling with your off-hand where the spaces are, not relying on your eyes.
How To Hold Your Hook To Crochet Without Looking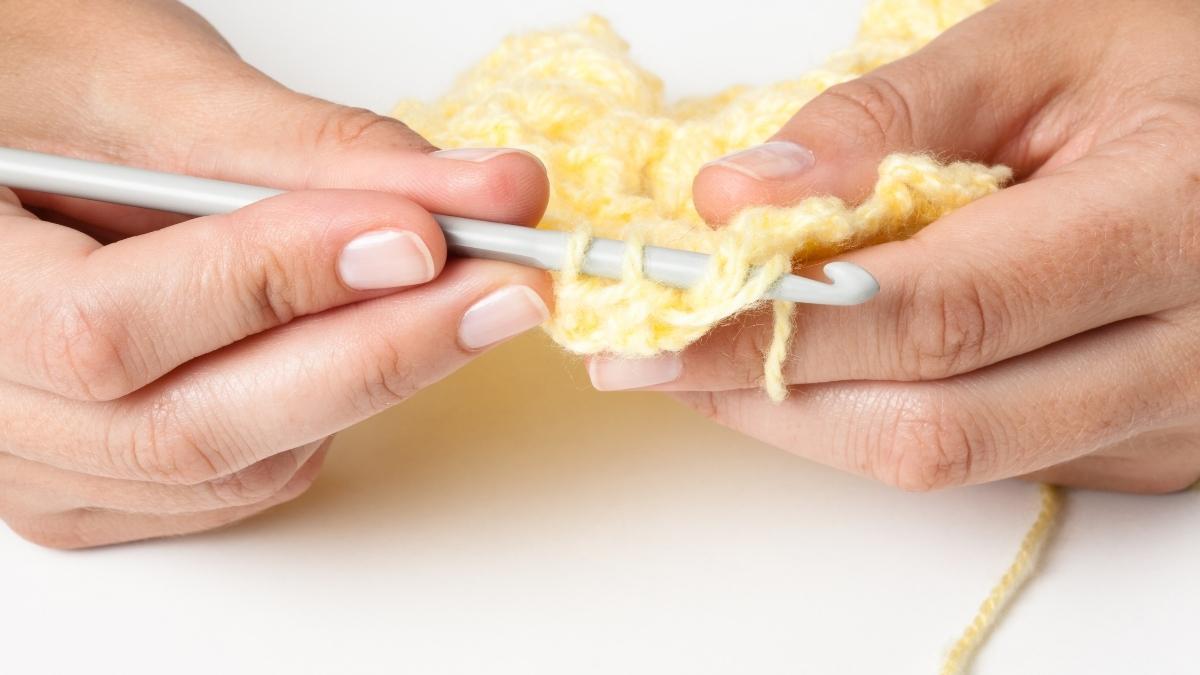 To crochet without looking efficiently, try working with a pencil grip that will require less hook twisting. To use this grip, hold the hook close to the tip, pinched between your index finger and your thumb. Push the hook through the stitches without twisting your wrist. 
If the pencil grip doesn't work for you, you can still practice this method with the grip you are most comfortable using. If you're struggling, try out other grips to see if they help you catch the yarn with the hook more easily.
Techniques To Crochet Without Looking
To crochet without looking and relying on a stitch with large gaps, try using your off-hand to pinch the next stitch where you will insert your hook. Inserting the hook into the stitch will push through and touch your index or middle finger.
As you continue down the row, you'll scoot your fingers to the adjacent stitch, using the hook on your middle finger as reassurance that you're going into the right stitch.
Start By Looking Off To The Side
Another technique to crochet without looking at the project is to practice looking away in baby steps. This will acclimate you to the feeling of not looking at your work constantly.
Start by looking past your work, either over the top or to the side. Your eyes aren't directly focused on the piece, which will make you feel a little bit uncomfortable to start. Get used to the feeling of relying on your peripheral vision before you advance to the next baby step.
After this, begin looking at your TV or computer screen while keeping the project in your peripheral vision. You've still got a sight on your project, but you're acclimating yourself to looking up instead of down.
Now, instead of keeping your project in your vision, try closing your eyes. Over time, as you practice this, try to increase the duration of time when your eyes are closed.
After these exercises, you're ready to try watching the screen (or doing whatever else you want to do) without keeping your project in sight at all. At this stage, it will take time as you try to increase the increments you don't have to look down. 
The Best Tools To Crochet Without Looking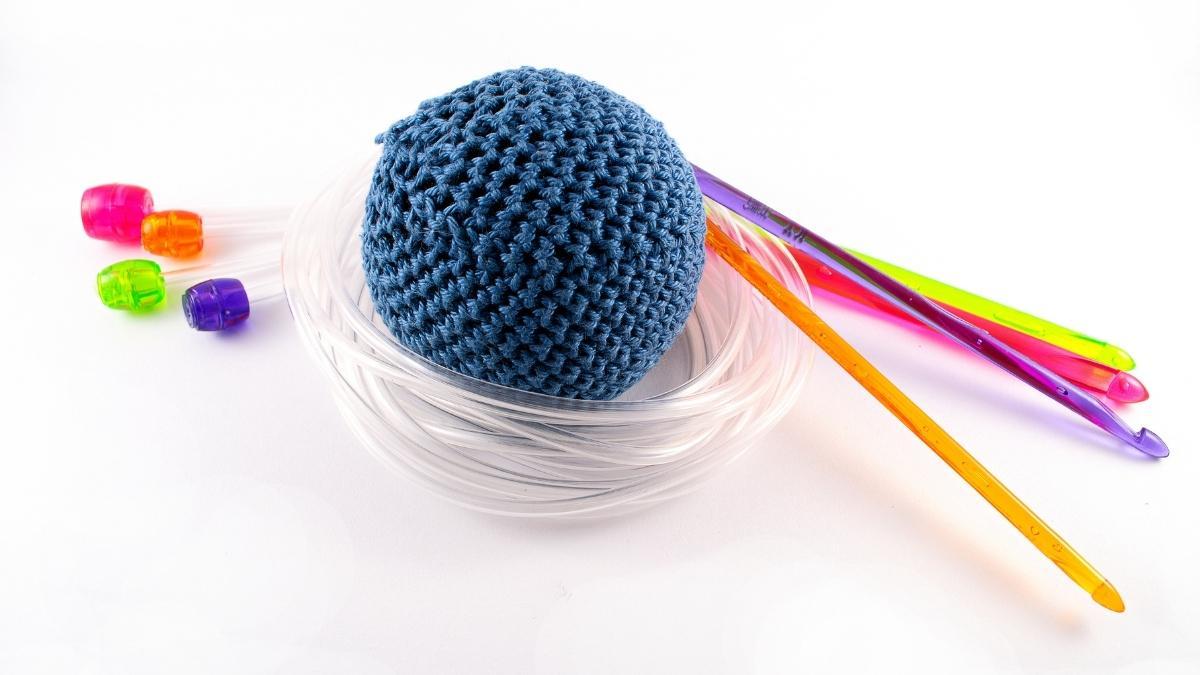 To reduce the struggle you might face when trying to crochet without looking, make sure you're using yarn that doesn't split, a hook that doesn't catch the yarn and isn't too slippery, and maybe try out a Tunisian hook for a more straightforward method of crocheting blind.
"Splitty" yarn is going to be one of your biggest obstacles when trying to make precise movements without looking at the project. Play around with the yarn you're using by crocheting normally. If you find yourself re-doing stitches because you've punched through the middle of a stitch, don't use that yarn.
Another consideration is your hook. Make sure you're getting a smooth pull when creating stitches with whatever hook you choose.
Finally, Tunisian crochet may be an excellent tool for crocheting without looking for certain periods. You may have to pay close attention to where your stitches go on the forward pass. On the backward pass, however, you're just pulling through loops. It may help you practice letting go of your discomfort of looking away from the project.
Hopefully, with these tips, you can learn how to crochet without looking, so you can feel more engaged with your favorite media and your loved ones while working on projects.