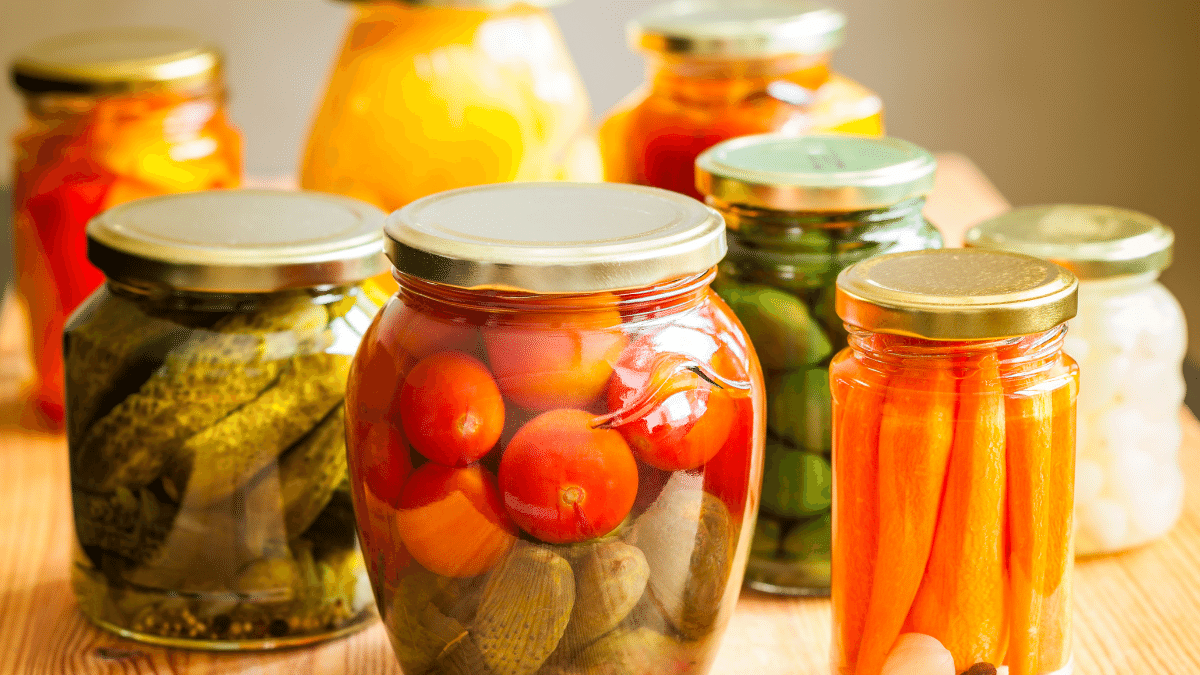 If you are planning on canning some of your own recipes and foods, it's time that you get familiar with the different types of canning jars you can work with. Did you know that different size jars make a big difference in what you can and can't preserve?
Trust me – knowing all about the different sizes of canning jars available is going to save you a lot of time and energy. Think carefully about what you'd like to preserve – no one wants to end up with a small amount of leftover sauce in their pint jar while their vegetable sticks are stuck in bowls in the fridge.
Below, I'll take you through a quick guide to the different size canning jars you can buy, and which types will lead you to the quickest canning success.
Different types of canning jars and their suggested uses
The best jars to use for canning are – of course – mason jars. These offer the best protection against heat and are easy to seal for airtight preservation.
Generally speaking, most canning mason jars have smooth sides and are either half pints, whole pints, quarts, or half-gallons in volume. Their mouths are usually between two and a half and three inches wide. 
You'll need to invest in different-sized mason jars if you intend to preserve and pickle a range of different sauces, veggies, and more. Keep reading, and I'll guide you through the most popular sizes of canning jars on the market.
Small jars (2oz)
The smallest canning jars you will come across are 2oz in volume. These are the kinds of jars that you might have from leftover beauty creams, and they aren't usually used for food due to their size. However, you can still recycle these tiny jars easily. Use them to carry your favorite creams around with you, or, as small storage pots for holding change, bobby pins, staples, hair ties, etc. 
When it comes to canning, you may be able to use these jars for small amounts of preserves – or even for drinking from!
Jelly jars (4oz)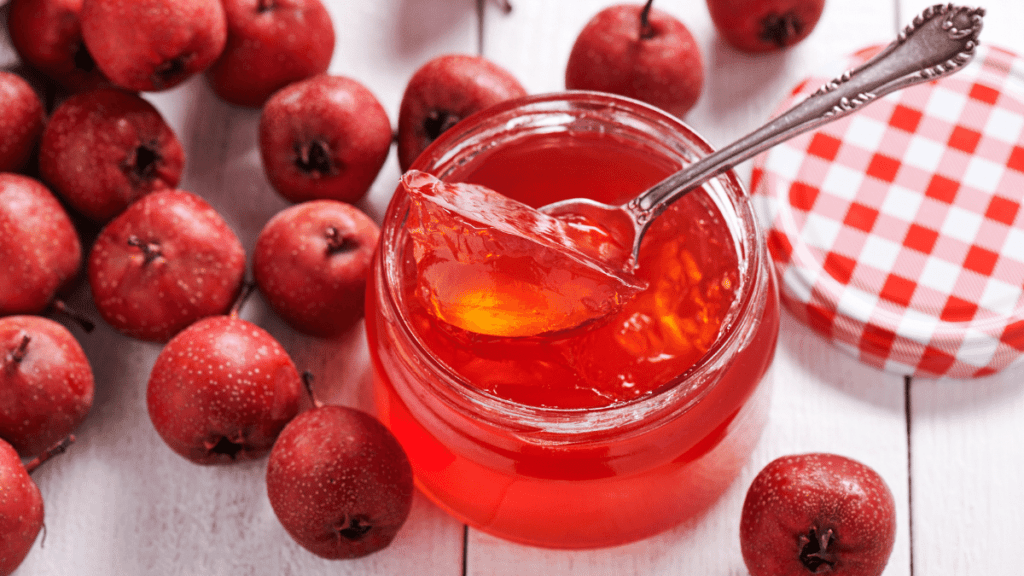 Jelly jars are perfect for storing – as you'd guess – small amounts of jellies and jams. These can be narrow or squat. They are usually used for holding spices, dips, or for storage. They are great for crafts, too, for loose glitter, beads, flowers, etc. In fact, many makeup artists, designers, event planners, and even teachers usually have a few quarter pint jars lying around. 
These don't tend to be very popular among canners unless preserves and small amounts of jelly are involved – they will only hold a quarter-pint in volume, at most.
Half-pint jars (8oz)
Now we're getting somewhere – half-pint jars are those you most likely already have in your home. 8oz jars are usually ideal for keeping jellies, jams, preserves, and otherwise. Many people use 8oz jars as drinking glasses, pencil holders, flower pots, and vases – as well as for homemade candles, jellies, and sauces, and as general food storage for spices, seeds, and more. 
While great for keeping the odd bit of sauce in storage, canners will normally look to bigger jars for most foodstuffs they wish to preserve.
Skinny jars (12oz)
12 oz jars, also known as three-quarter pint jars, are a little less common than the ones mentioned above but are the ones that you are most likely to keep in your fridge. 
They are ideal for keeping your chopped vegetables and fruits fresh in the fridge, storing overnight oats, and even occasional leftovers. They are also great for storing items such as oats, dried fruits, seeds, etc. 
They are tall enough to hold stringy vegetables, making them perfect investments for the veggie-conscious canner!
Pint jars (16oz)
Pint jars tend to be the 'mainstream' choice for most canners, and it's likely these you'll have seen on social media (if you follow canners on Instagram, for example!). They are perfect for holding and keeping a healthy amount of your sauce, salsa, fruit salad, and more. You may even invest in pint jars to can cucumbers with!
Outside of canning food, these jars are also commonly used to hold flowers, herbs, spices, and decorative pieces – they're a fantastic crafting resource.
Pint-and-a-half jars (24oz)
Now we're starting to reach the jar size that is a little less common. These jars aren't found in all stores, and you are not likely to recycle any from the produce you buy. If you want to stack up on 24 oz or pint-and-a-half canning jars for your pantry, then you will have to look online. 
However, if you do find some, then you will be happy to know that there are plenty of things that you can do with them! They are great for holding taller vegetables such as asparagus, celery and more. They are also perfect for large batches of pickles.
Quart jars (32oz)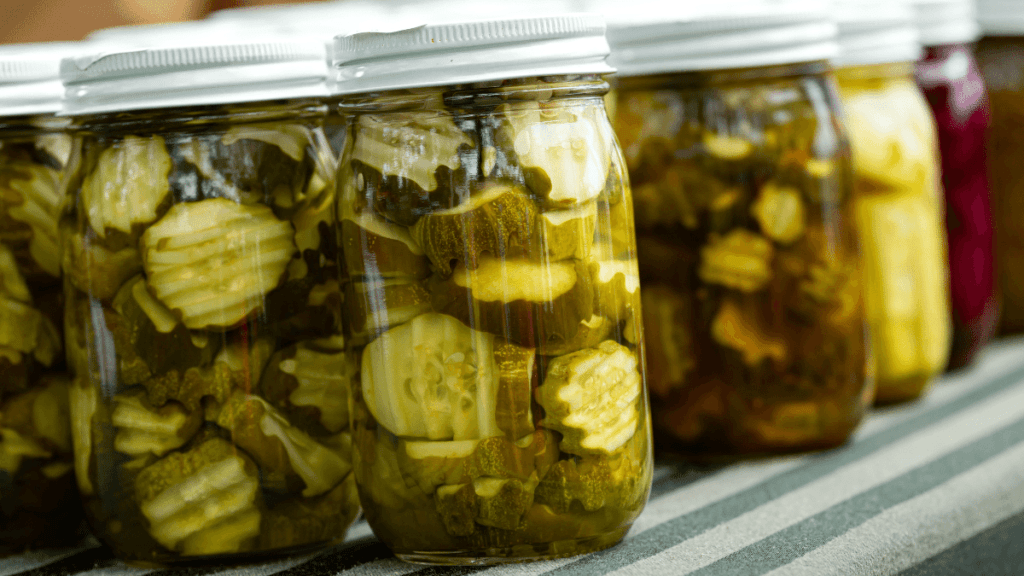 While a little larger than the above option, these canning jars are a little more common, and are perfect for storing extra-large batches of sauces, fruits, and vegetables. They are also great for making your lunches for work or school, salads, and quick-prep dinners. Many people use quart jars for cocktails and lemonade, too.
Half-gallon jars (64oz) 
Half-gallon or 64oz canning jars are those you'll need to look for when canning homemade specialty recipes such as kombucha, pickles, vinegars, pickled vegetables, and more. Super-sized, you can expect to fit an impressive amount of food and liquid into your average 64oz mason jar.
They will also work great in your pantry for storing larger amounts of ingredients such as flour, sugar, cereal, and pasta.
Thankfully, these jars are pretty common in stores as well as online, so it shouldn't be difficult for you to find them! 
Gallon canning jars (128oz)
Finally, the biggest canning jar that you will come across is the gallon or 128 oz canning jar.  This is the 'monster' of the bunch – and jars of this size are great for serving big families or supporting avid cooks. They will hold vast quantities of dry pantry staples like cereals, nuts, pasta, flour, sugar, rice, etc. 
You'll be able to store and can whole meals in here – and stacks of sauce you prepare for delicious dishes for the months to come.
They are also ideal for general storage and can be used to hold animal food, arts and crafts pieces, coins, and general clutter. 
Conclusion 
Yes – there are plenty of different types of canning jars out there, but stick with the common mason – and think carefully about the food and liquid you'd like to can and preserve. That will, of course, dictate the size you invest in!
Trust me – this can be a little trial and error to begin with, but once you have an army of fantastic jars ready to can with, your preserving mission can really get started!