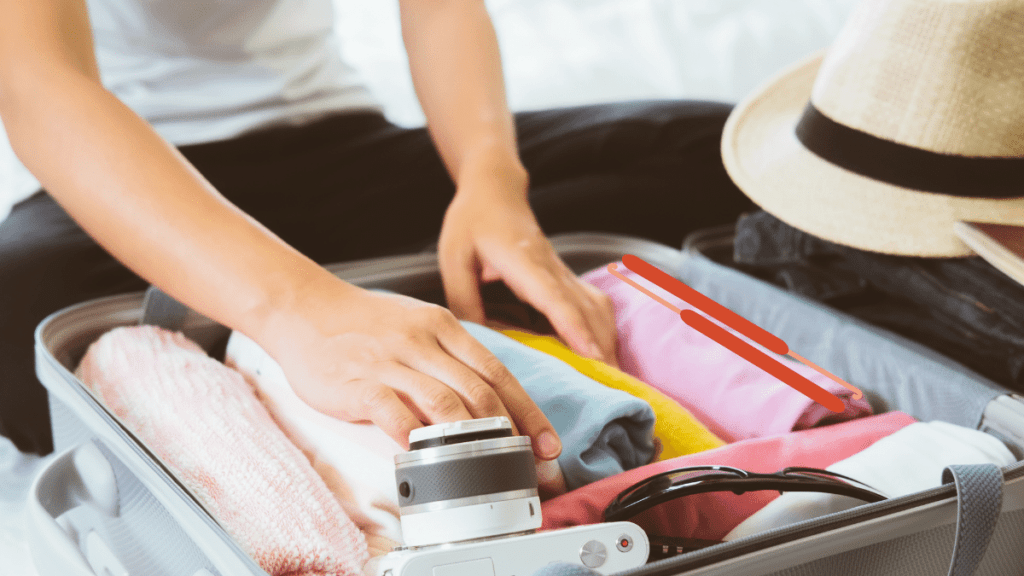 If you're anything like me, you'll probably find crochet hugely comforting. However, one instance in which crocheting may not be so relaxing is during a flight. Or, rather, during the security checks! Can you bring crochet hooks on a plane with you?
You can bring crochet hooks with you on a plane, but you'll need to make sure you prepare and cover them carefully before you board.
Since crochet hooks tend to be pretty long and pointed, there's little wonder why there's so much confusion over bringing them with you when you travel. Sadly, the same applies to many craft tools, such as knitting and sewing needles, pliers, scissors, etc. 
Let's take a closer look at what you need to know before you take any kind of crochet equipment with you on a domestic or international flight.
Can I bring crochet hooks on a plane – and how should I prepare them?
Thankfully, yes, crochet hooks are generally allowed on planes! What's more, you can carry them in either your checked-in luggage or your carry-on bags. 
Remember, however, that TSA requirements can vary from location to location and from airline to airline. Therefore, don't be too shocked if you're asked specific questions about your crochet hooks, or to take them out of your bags for a close inspection.
It is also worth noting that while they are allowed on flights, you must ensure they are stored correctly. 
The TSA specifically asks that sharp objects should be properly covered, wrapped, or even sheathed. This is simply to prevent any injury that could happen to those handling or even inspecting the bags.
So, when it comes to your crochet hooks, try wrapping them up, or even keeping them in a case, just to be safe. This will also ensure they do not get damaged during your journey, so it's a win-win! 
When bringing them with you on board, keep them open and visible. This will help prevent the inspectors from getting harmed and show that you are open and willing to show they are there. 
These rules apply to most crochet hooks and tools – including specialist crochet hooks for arthritis sufferers – so be sure to follow them to the letter.
Can you take crochet hooks on international flights?
Whether or not you can take crochet hooks with you on international flights varies from case to case. As with TSA regulations, it's typically safe for you to take crochet equipment with you in carry-on luggage. However, you must make sure to check these details with your airline going forward and back.
As with TSA checks, keep your hooks visible going through security, and wrap them up safely so no one risks injury or harm.
Can you bring knitting needles on a plane?
Knitting needles can be a little more tricky to bring through security, especially if they're made from metal. Generally speaking, the TSA allows you to bring your knitting needles both in the cabin of the plane and in your luggage in the hold. 
Metal needles may be cause for concern. Even circular needles with metallic cabling can cause disruption at security checks as they can activate metal detectors on your way through.
To save yourself some time and trouble, it may be best to bring either plastic or wooden needles. But, should your metallic needles be absolutely necessary, then know that you are allowed to bring them; it may just take you a little longer to get through security! 
There are zero regulations regarding the size of your needles, so just be careful with material first, and size second. Again, as with crochet hooks, it's worth packing your needles safely so they don't cause any harm during checks.
Rules for knitting needles on international flights, again, may vary depending on the airline you travel with. Be sure to reach out to customer care for advice.
Can I bring other craft needles on a plane? 
Sewing needles are famously sharp and, in some cases, even long enough to cause concern for security personnel. Always make sure you follow the guidelines expected of you before you travel!
Generally speaking, you can bring sewing needles in your carry-on bag through security. Much the same as metallic knitting needles, the material is likely to set off the detector, so be ready to open the case or pouch in which they are to show them to the inspectors. 
Ideally, you should present needles to security when you arrive and make them perfectly visible in the TSA bin. This way, there shouldn't be any further queries over what you're carrying with you, and why.
Once again, rules will vary from flight to flight if traveling internationally, so always check before you board.
Other sewing tools
When it comes to other sewing tools, such as rotary cutters, for example, you will have to put them in your checked luggage. Blades on implements such as these are too dangerous to store via cabin on your plane and will, therefore, not make it through security. Instead, you may find some items are confiscated and destroyed.
So, before you get to security, either put the cutters in your checked luggage or throw them away yourself – or, save on wastage and leave them at home.
Can I bring a sewing machine on a plane?
If smaller craft tools won't suffice, and you have to bring larger sewing equipment with you, then here's the question to ask yourself: Will my sewing machine fit in the overhead locker? 
If the answer is yes, then the TSA will let you bring the sewing machine with you on the plane. However, you will need to check the size and weight restrictions of the airline you are using to ensure that it will indeed fit! 
It's also essential to bear in mind that while it may fit, sewing machines tend to be pretty heavy – and they're not exactly made for travel. So, you'll have to carry around a big, heavy device with you, potentially for hours. You'll also need to be able to lift the sewing machine safely into the overhead locker without letting it fall on or hurt anyone around you! 
So, maybe consider checking the sewing machine in with your luggage instead. That way, you should be able to pack it perfectly for the trip without having to carry it around all day by yourself! 
In the event of any kind of confiscation, always check that the airport you'll be using has a mail facility. Should they confiscate your sewing machine, ask staff to send it back to you, straight to your home address. Just to make things go a little easier and quicker, it would also be wise to bring your own envelope with your address and postage on it.
Can I bring pliers on a plane with me?
Pliers can be difficult to bring into a plane cabin, as some are very long and sharp. Generally, if your pliers are longer than seven inches, then they will not be allowed in your carry-on luggage. They pose too much of a threat and will not be allowed through security. 
If they are smaller than seven inches (when fully extended), then they will be allowed in the cabin on the plane. However, you will likely have to explain them to security and be prepared to present them when checked. This is all in the name of preventing passengers carrying weapons with them on flights.
Again, to avoid any issues or concerns, it is best to present pliers to the TSA officers when you arrive and make them perfectly visible in the TSA bins.
Internationally, again – make a point to consult customer care before you board, so you can avoid any slowdown.
Can I bring scissors on a plane?
No, you can't bring scissors with you into a plane's cabin. no. If you try to bring scissors through security, then they will be confiscated and thrown away – they're seen as a major security risk as they can be used as weapons.
However, when it comes to nail scissors, or those that are less than four inches long, you may be able to bring them into the cabin with you. You will have to place them in the bins at TSA so that they are fully visible. Honesty and transparency are key at airport security – if you can justify why you need your scissors mid-flight, you may be able to take them with you.
To avoid all unnecessary worry, it's best just to pack your scissors in your luggage to go in the hold. There, they will be perfectly safe and ready to use when you land. You'll just have to put your crafts away for a little while during your trip!
Conclusion
If you'd like to do a little bit of crochet or crafting mid-flight, in many cases, you'll be able to bring crochet hooks, scissors and other tools with you on a plane according to TSA rules. However, it's always worth checking these regulations with your chosen airline before you board.
Otherwise, you may find your tools are confiscated and may even get destroyed in the terminal. It's all in the name of keeping you, other passengers, and airline staff safe. It's a cause we can all get behind – and if it means leaving your hooks and loops in the hold for a few hours, it's a sacrifice well worth making!