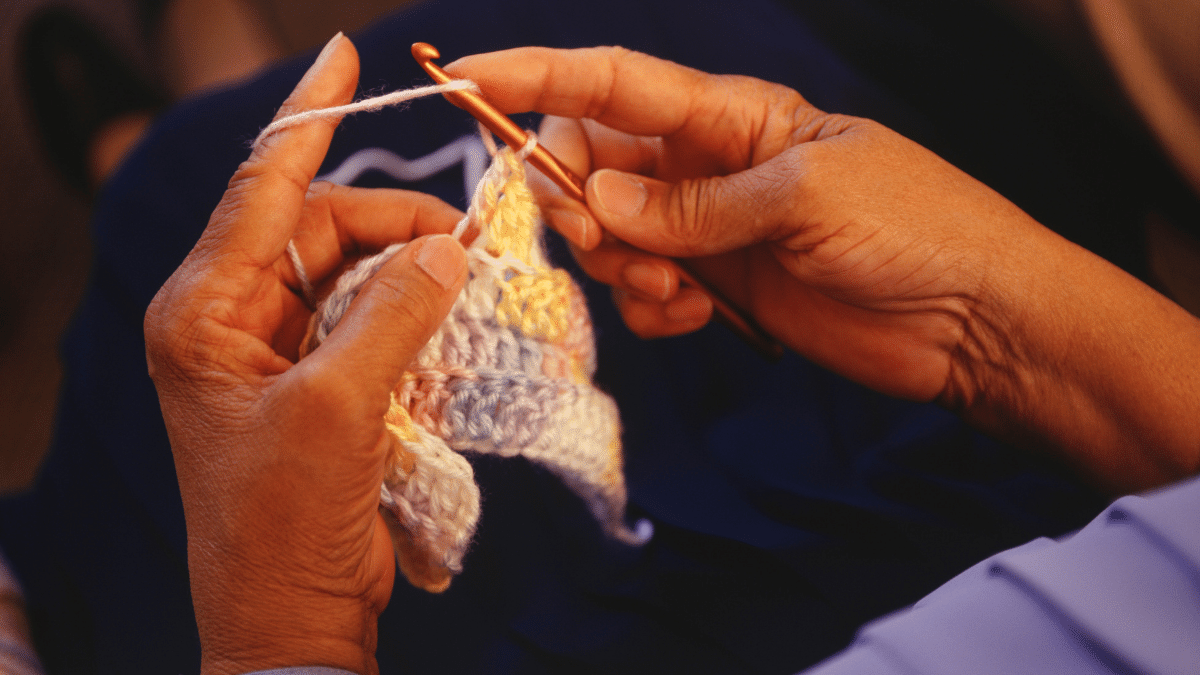 Arthritis affects many of us and can completely change the way that we live our lives. Suddenly, the things that we used to love to do can become very uncomfortable – especially when it comes to using our hands. But, don't let that stop you getting back into the hobbies you enjoy most – for example, I've brought together six of the best crochet hooks for arthritis you can start using right now.
Crocheting isn't something you should ever have to give up completely – and while crocheting with traditional needles may be a little painful, it's easy enough to just 'swap in' for a hook or two a littler ergonomically designed.
What should I look for in crochet hooks for arthritic hands?
Crocheting can be tricky at the best of times, so for those who suffer from arthritis, it can feel nearly impossible. That is why choosing the right crochet hooks for those with arthritis is essential – and thankfully, there's a lot of choice out there.
The first thing you will need to look for is the shape of your hook handles. They need to be designed as 'ergonomic' instead of just plain and flat. You'll know what to look for by sight!
Choose handles that fit comfortably in your hand. They should mold to how you hold your hooks – prefer a knife hold or a pencil hold? Be sure to check this out, too. 
Ideal crochet hooks for arthritis also need to be very light in weight – as one of the most tiring things about crocheting is dealing with the weight of the hooks. You'll tire easily with heavy tools, and what's more, if you lose tension, you're at risk of your work losing a lot of its shape and form!
The length of the hooks used can affect any crocheter – however, for those with arthritis, this can be a real battle. Therefore, you should try to opt for shorter hooks wherever possible – perhaps a little shorter than you're used to. This way, you can be sure that you're not having to readjust too drastically.
From research, you shouldn't ever have to pay too much to invest in crochet hooks designed for arthritic users. However, some of the best hooks come at premium prices, so be prepared to make an investment – it's certainly worth it to save you pain and stress!
Best crochet hooks for arthritis sufferers: My top picks
It's reasonable to suggest that many people suffering from arthritis learn to adapt when crocheting – but this is never the wisest option to prioritize! Instead, look for crochet hooks that are comfortable for your hands – and which won't add unnecessary strain. 
Here are six brilliant brands and picks I've found online for you to try out in your own time, along with a few pros and cons.
These top-rated crochet hooks are famous for being highly comfortable and easy for crocheters of all ages and experiences to get used to. You get a good pick of various sizes, making them ideal for any kind of crochet project. In fact, there are up to 10 different sizes available and you can also find various other Clover branded products and size options on Amazon.
Their handles are designed for hours of crocheting, with the hooks themselves made from aluminum – and you get a pick of a funky selection of colors, too. Best of all, the hooks are impressively light, and some have been specifically designed for those with arthritis. 
The brand is also one that you can trust and that has stood the test of time – Clover's been in the crochet business since the 1920s!
Pros:
Lots of sizes and colors available
Relatively well-priced
Nice and soft on the hands
Light and easy to use (both knife and pencil hold)
Very little yarn snagging potential
Cons:
There are lighter hooks available
Now, this set is definitely one that costs a little more than you might have expected, coming in at around $80. However, you can find them on sale on Amazon relatively frequently, at which point they become much more affordable and more around the price range that you might expect for a crochet hook set. Either way, this set is definitely worth the money!
They come with an elastomeric comfort grip, allowing for ease of use over long periods of intensive crocheting. This is great news for those of us with arthritis – and the hooks are both relatively short and reasonably light.
The set also arrives with a carry case for all of the hooks, a ruler, two yarn needles made of steel, and even silver tulip scissors. That's a complete set of hooks!
Pros:
Everything you'll need to get started in crochet
Often available at cut rate
Very comfortable to use
High quality manufacture
Nice and short
Cons:
Can be expensive at full RRP
All one color – can be easy to mix up sizes
These hooks certainly carry a little more style than most, and you will likely treasure them! Furls' crochet hooks are made from a variety of sustainable woods and arrive in various designs and natural colors. The model I've linked to here is ebony, for example.
Each hook is handmade and has a smooth and comfortable surface that is perfectly designed to suit the shape of your hand. Moreover, given that they are made of wood, you might assume that they would be too heavy for those with arthritis, but they're surprisingly light on the fingers.
These hooks arrive with their sizes printed on the sides, to help you to distinguish them from one another. 
Pros:
Some of the best-looking crochet hooks online
Nice and light on the hands
Easy to tell sizes apart
Highly durable
Well-regarded brand
Cons:
Fairly expensive per hook
May be a little too long for some users
This set of 12 brightly-colored crochet hooks provides your hands with a nice, light crocheting experience in a variety of different sizes. Boyes' sets tend to be some of the cheaper-priced crochet hook packages online, however, they still arrive with an assurance of quality.
Each hook has its own color to easily identify them, and the sizes are written on the sides. However, the sizes of the hooks are written in the same colors as the handles, so they can be a little difficult to see! You'll get sizes B up to N in this set, which should cover most needs.
The soft handles provided are some of the comfiest I've tried – and they tend to pick up a lot of praise online, too. I'd highly recommend this set if you are purely looking to upgrade or replace your hooks – though, for beginners, there's plenty here to be getting started with.
Pros:
Very comfortable grips
Lots of different sizes available
Relatively cheap
A recognizable brand
Recommended by regular crocheters
Cons:
Size writing can be difficult to make out
Better available for a little more outlay
BeCraftee's affordable, multicolor crochet hooks kit offers you comfortable crocheting from sizes B up through L, at a price that competes brilliantly with many of the kits I've already looked at in this guide. Ideal for beginners as well as for those looking to crochet with arthritis, you can invest in a set of 12, or a set of 31 and save even more money – the choice is yours.
Refreshingly lightweight, BeCraftee claims this set is the 'ultimate crochet kit' – and I'd honestly find it difficult to argue what else might be included. Nice and chunky, these crochet hooks are also great for kids to use, making them great learning tools as well as highly adaptive hooks for those suffering from arthritis.
Pros:
Some of the best-priced crochet hooks online
Lots of sizes available
Bigger set available at a cost saving
Bright colors help you tell hooks apart
Extremely comfortable and easy to use
Cons:
Rubber handles may start to slip after heavy use
Prym's Ergonomics ranges are some of the best-rated crochet hooks for arthritic hands online, and for good reason. While you only get a set of five hooks per kit for the price advised, these are some of the most stylish and comfortable tools you'll find on the web. 
The shaft and handle on each hook is carefully designed and manufactured, with an emphasis on smooth transitioning. These hooks are also famously lightweight, making them ideal for reducing fatigue. From the outset, they're perfectly designed for crocheters suffering from arthritis.
You can also use these hooks with any type of yarn you wish, and there's a lovely glide you'll feel when pushing your hooks through. Having used them myself – I seriously suggest you give Prym a try!
The small kit, as linked in this guide, provides hooks in sizes E, G, 7, H and J. There's a large kit, too, providing the next five sizes up. Prices vary, but you'll get plenty of crocheting fun out of these hooks.
Pros:
Extremely well-made and designed with care
Stylish colors and designs
Very light to hold and smooth to maneuver
Larger hooks are available if needed
Useful with varying yarn types 
Cons:
Can be fairly expensive compared to other kits in this list
Should I buy crochet hooks for arthritis?
The fact is that arthritis can affect us in different ways – but you should never let pain get in the way of doing the things you love. Of course, I'd never suggest causing yourself anguish for the sake of a bit of crochet – you simply need to invest in the right hooks! The crochet hooks mentioned above are some of the best tools recommended by users with arthritis – so you don't have to just take my word for it.
Start by looking for hooks that are suited to the kind of crocheting that you do. You will already know whether you need bigger hooks or smaller tools – and consider the type of material that you prefer to hold, whether it is aluminum or wood, for example.
Above all, prioritize ergonomic gripping and lightweight manufacture. These elements will help to reduce painful fatigue on your hands – and are therefore the best picks at the outset for crocheters with arthritis.