Craft helps foster creativity in children and brings a sense of achievement of what they create independently.
In this article, I'm going to give you some great ideas for the best crafts for 8 year olds!
8-year-old children are at just an early age to develop crafts and everything they love. And this is the time for parents to give them the scope to learn various skills that could help them flourish in the future. It helps them make effective decisions as they face artistic challenges while creating something.
The children of the present generation are more into electronic gadgets, but parents now have the opportunity to drive their attention with the best crafts for 8-year-olds.
Craft Ideas: Are They Ideal for Kids?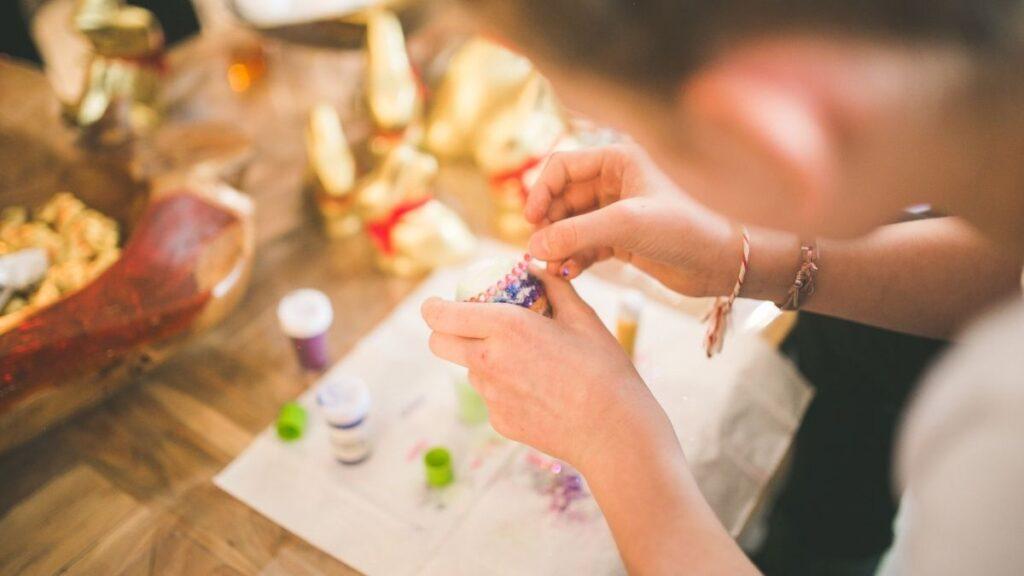 There are craft options available for kids of all ages. There is no restriction upon age for the kids to start with their craft learning skills. But you need to keep in mind to buy craft kits specific to a particular age. The materials used to prepare the craft kit vary, depending on the child's age.
This is the only concern parents need to take while getting their kids the best crafts kit. Not just ready-made kits, parents can also teach their children to make crafts from goods available at their homes. It will boost their creativity and understand the correct utilization of things available at hand. They would also truly understand the art of creativity.
Therefore, if you doubt in your mind if it is the right time for your child to start crafting, reading the rest of the article should help you find crafts that you feel comfortable with your child picking up.
Crafts Ideas For 8 Year Olds You Can Do At Home
To help you better understand what will be suitable crafts for 8-year-olds, here are some ideas so that your child will learn and adapt creative thinking.
Ice Pops with Pompom
Use the pompom balls available at craft stores and bring some ice cream sticks. Now tell your kid about replicating ice pops or stick ice creams using these materials.
Guide them in the process, and see them recognize the shape of an ice pop and replace it with pompoms or other materials! It creates a fun kind of ornament that can be used for even bigger projects.
Flower Pens
Get some plastic flowers from decoration stores nearby. Now, get some pens from the stationery store.
Make sure you have transparent or green tape to make the craft. Furthermore, ensure that the flowers you have picked have a thin stem so that you can insert them into the back-end of the pens.
Once you have inserted it, wrap it around with green tape right at the blooming edge of the flower. And then, wrap the tape around the pen's body to give it a natural look. Make plenty of them with your child, and store them in a jar.
Colorful Butterflies
Your kids would love to make butterflies from colorful paper and tapes. Your kids can color white paper with the shade they need, but they can also use colored paper directly.
Squeeze the paper in small folds from top to bottom horizontally. Then tape it from the center. Now, take the scissors and ask your child to cut the edges in the shape of a butterfly, with utmost safety.
For the final touch, you can use a piece of wool to make the butterfly's antennas and paste it at the center.
Natural Collage
You need to start this art activity by printing out a full-body printout of your child's photo or anyone else that your child knows personally.
Get a photo with 8.5 inches by 11 inches dimensions. Now, go out with your child, and collect some natural supplies to complete this art. To complete the collage get some thick leaves, flowers, bark, and twigs in sufficient amounts.
Now, head back home, glue all of the items upon the photo, and create a collage that would look different from the original photo. Hang the creative art on your house wall, and you will have the collage ready to admire.
Handmade Tiles
For the art & craft activity of your 8-year-old child, you will need to use the help of the sun.
The basic materials are  ½ cup of water, ½ cup of flour, ¾ cup of salt, a mixing bowl, a sheet tray, acrylic paint, paintbrushes, a rolling pin, and a mixing spoon.
Now, you can take the sheet tray and prepare a flour tile. For making a flour tile, you will have to mix water, flour, and salt in a bowl. You need to knead it for 2 minutes and roll the dough into a square shape. Now we have the tile shape!
Now, use cookie cutters to give it a desirable shape. You can also use rubber stamps or other small objects to design. When done with the design, let the flour tile settle on a sheet tray under sunlight.
Let it settle down for a few hours, and then you will notice changes in the dough. Now, flip it to dry the bottom side. After both sides are dry, you can color the tile with acrylic paint and let your child decide upon the colors to complete the interesting art project. You can be the mentor to them!
To Sum It Up
These are just a few of the many options of crafts for 8 year olds that you can try. But, if you are unaware of where to start the craft lessons for your child, then take on these available home craft options or find ready-made kits at the store.
Soon, your child will develop an interest in crafting. In addition, with growing age, they will be able to take up complex crafting challenges on competitive levels. These extra-curricular activities are important for child development!