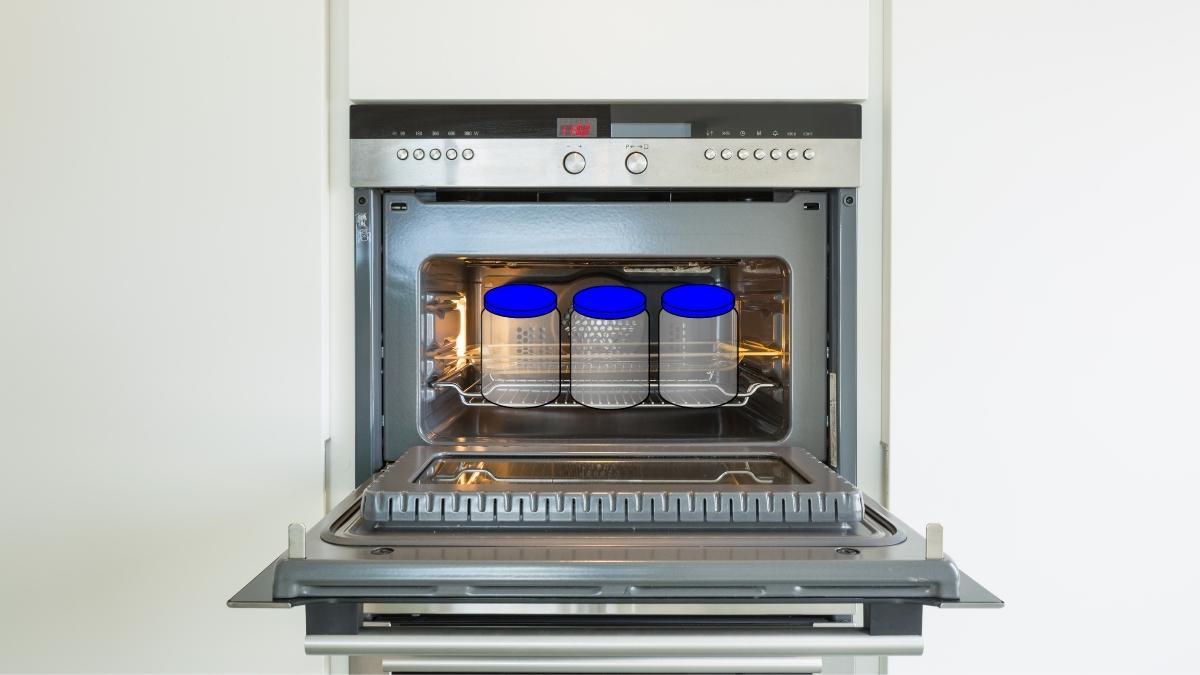 If you're a complete newbie to canning, you may be wondering whether or not it's safe to place your jars in the oven. Some methods of sanitizing jars actually call for putting them in the oven, for example – but is it safe?
In this article, I will examine whether canning jars are oven safe, if any jars can go in the oven, and how hot a mason jar can get in the oven before breaking.
If you're in a hurry, are canning jars oven safe?
It is not safe to put canning jars in the oven simply because heating occurs unevenly, and the glass isn't meant to withstand temperatures greater than that of a water bath boil.
While a good rule of thumb is simply not to try it, there are some nuances to the question of whether you can put any canning jars in the oven – or if it's just certain brands that can't withstand it.
Keep reading, and I'll answer all of the above questions. Don't preheat anything until you've read to the end!
Can You Put Mason Jars In The Oven?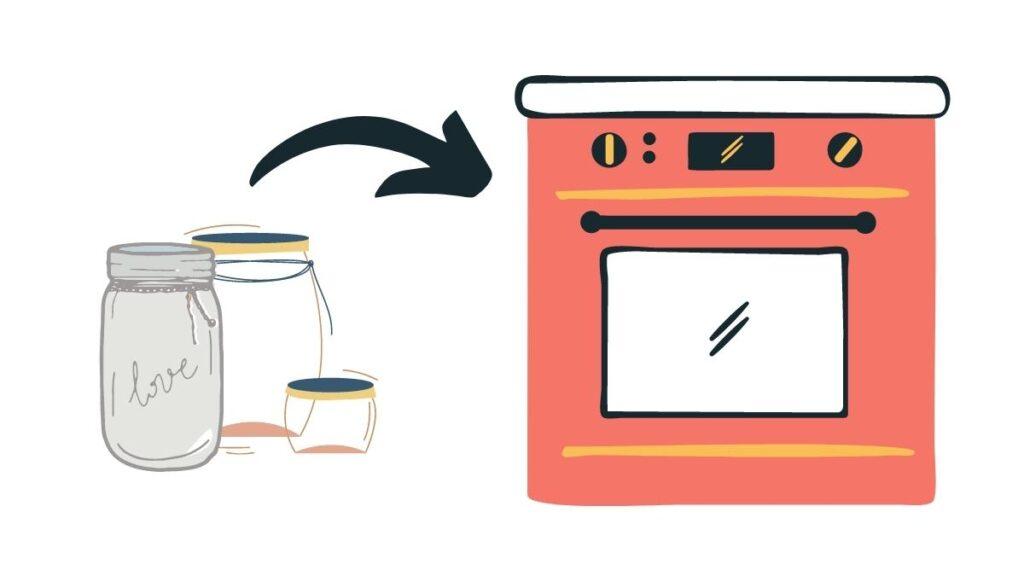 For the most part, you cannot put mason jars in the oven – neither to sterilize them nor to can. Most mason jars used for canning are made of annealed glass, not tempered glass, and therefore will not withstand the heat.
Tempered glass is more expensive than the heat-resilient annealed glass mason jars are made out of. So, while annealed glass can withstand boiling temperatures, it may break in the oven or in your hand after being boiled or handled. It's highly dangerous!
Glass type isn't the only factor contributing to the danger of heating glass in the oven, however. 
As you're most likely already aware, if you're a canner, putting glass through a temperature shock will cause the energy from the heat or cold to distribute unevenly, forcing the glass to crack or break. Putting glass straight into a pre-heated oven is very risky, but even heating glass as the oven warms up is uncertain. Not all parts of the jar will heat evenly, either because of the density of the glass or because of the way the coils in the oven heat.
This uneven heating puts immense pressure on the glass, and there isn't a great way to remedy that reliably.
In the same vein, uneven heating is not ideal for canning as it is not likely to bring the contents of the jar to a boil for long enough at its center. So, not only will the contents of the jar not reach a sanitizing temperature, but the recipes you're likely to use haven't been proofed and tested for oven canning. 
In other words, there's no good reason to sanitize or can with mason jars in the oven. It's not safe, nor will it produce sanitary food that can be kept for an extended period.
What Jars Can Go In The Oven?
Canning jars advised by the manufacturer to be tempered should be safe to put in the oven. The only problem is that tempered canning jars can be extremely hard to find.
Luckily, there are some tempered glass canning jars available at Lowe's. I'm hesitant to accept this, however, as it seems to be nearly impossible to find tempered glass canning jars anywhere else online!
This glass manufacturer claims that the only way you can make a cylinder with tempered glass is with four pieces of glass put together.
Also, keep in mind that even Pyrex, possibly the world's best-tempered glass manufacturer, is vulnerable to breaking with extreme temperature changes.
I'll stop preaching about the potential dangers of putting your jars in the oven in a moment, but as a final piece of evidence to persuade you not to do it, consider this discrepancy. The official Ball and Kerr website's official stance is that these jars should not be used in the oven. Yet, Target sells Ball mason jars under the category of "oven safe" mason jars. Be careful!
The point is, even if a company claims to sell tempered glass or oven safe jars, nowhere else on the internet within the canning community suggests it is safe to put them in the oven.
How Hot Can A Mason Jar Get In The Oven?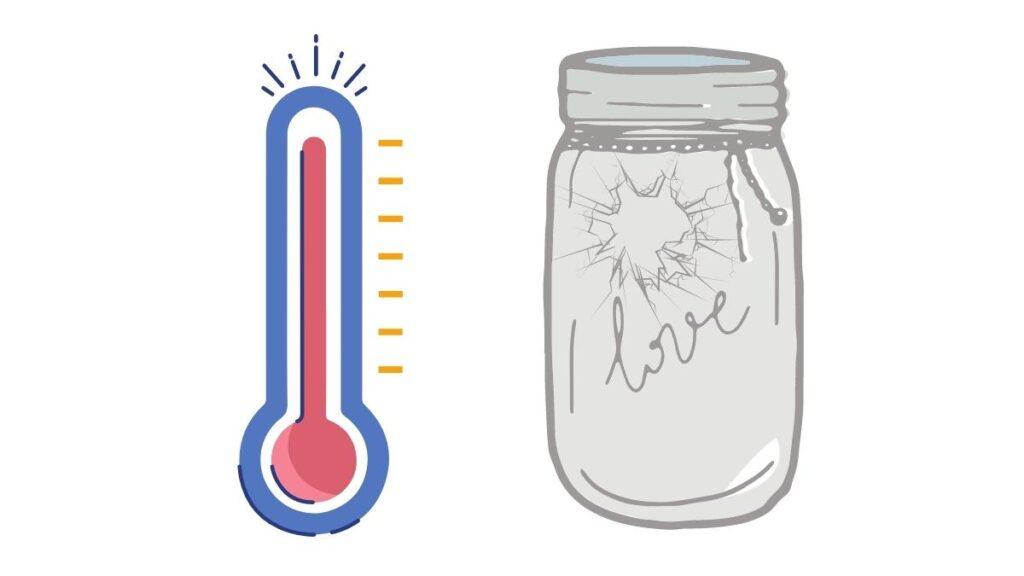 It seems that anywhere from 300 to 400 degrees F is sufficient to break a jar in the oven. Water baths will not go above 212 degrees F, and jars can and do break during that process through thermal shock or imperfections in the glass – so why risk such high temperatures?
Another important note on the dangers of canning in the oven, if that's why you're wondering about putting them in there, is that the heat isn't the only reason it's dangerous. If you can with the lid on in the oven, can you imagine how much pressure is sitting inside that jar as temperatures rise?
Annealed glass, which mason jars are almost exclusively made out of, does not break safely – unlike tempered glass. If it explodes, not only are the boiling hot contents going to spill everywhere, but the tiny, razor-sharp shards will, too. It's a recipe for danger.
How Many Times Can I Heat A Jar Before It's Too Fragile?
Jars that are decades old and have been through dozens if not hundreds of cannings have stood up to the repeated heat and stress. Carefully inspect jars for cracks, scratches, or chips before heating to be safe.
Just because you can't put a jar in the oven doesn't mean it can't withstand a lot. Some canning jars can last dozens of cannings – so how many times will they withstand the process before they aren't safe to use anymore?
Honestly, that depends on how well the jars have been taken care of. Jars do weaken with repeated heating, especially the newer jars made with thinner glass. To be extra safe, never pressure can with old jars. Try them in a water bath to see how they hold up if you're unsure.
According to South Dakota State University's Food Safety Specialist, canning jars have a life expectancy of between 10 and 13 years. If you've had your jars for longer than that, you might want to go gently on them with the heat and consider retiring them into flower vases.
To the question, "are canning jars oven safe?" the answer, from me at least, is definitely not. Hopefully, in this article, I've convinced you that the only safe way to use these jars is according to the manufacturer's directions – and not in the oven.