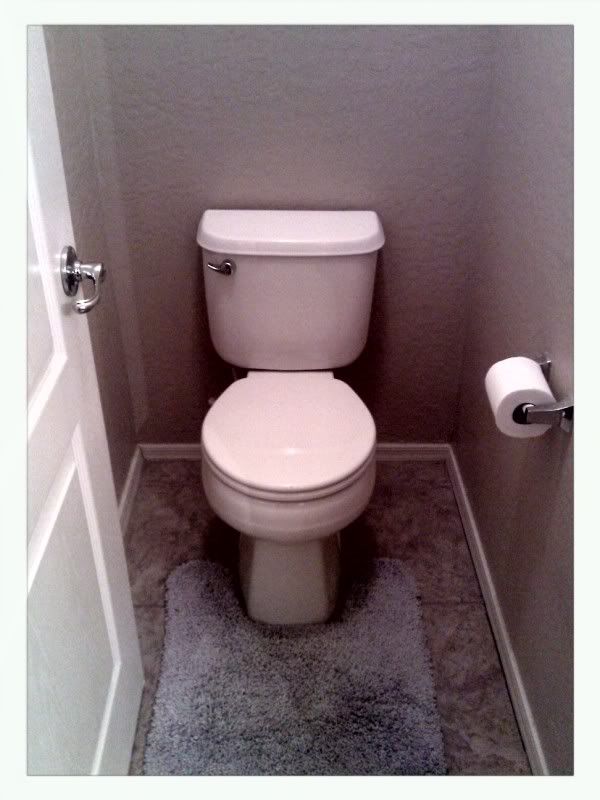 What is the weirdest thing that you have done while sleeping?  I ask this because in the last two weeks I have been sleep "doing."  I have woken up several mornings to find projects or chores all half finished and I am wondering what else am I doing at night.
Last week I woke up and went through the morning routine with my kids; get up, make breakfast, slurp down a cup of coffee and take my son to school.  Fairly mundane but productive.  During my routine I went to the bathroom and noticed that my toilet was completely blue inside.  "Someone" had decided to squirt half a bottle of blue toilet cleanser on the sides and failed to scrub it off.
The evidence of the "cleaning" was everywhere.
A scrubber was lying on the floor.
The empty bottle of cleaner was found thrown haphazardly underneath the sink.
Why in the world did I decided to clean the toilet in the middle of the night?  I stood in front of the bathroom for a moment trying to search my memory of my midnight cleaning. Nothing came up.
The rest of the day I was wondering why did I do this.  Why couldn't I get up and do something cool like save the world, make a million dollars, or work out and not get bored. The toilet thing makes no sense.
I decided to make the adult decision to let it go and not dwell anymore.  Until today….
I made a peanut butter sandwich last night and left it on the counter.
No plate
No bites
Just sandwich.
WHAT IS WRONG WITH ME?  What is the next thing I am going to do? First a toilet now a sandwich.  Maybe I should be grateful that the sandwich wasn't found in the bathroom with a blue toilet and a bite. Better yet, let's all be grateful that I am not the lead character in Katy Perry song "Last Friday Night."
What is the oddest thing you have done while you were sleeping or half awake? Were you a hero or did you do something random? Or am I the only one?……