There are a few household items that have always held an element of fascination to me.   Items that I know can be used in more ways than just the ordinary and if I can just figure out a their new purpose or dress it up differently my life would be infinitely more fulfilling…
Clothespins- Fulfilling my life one day at a time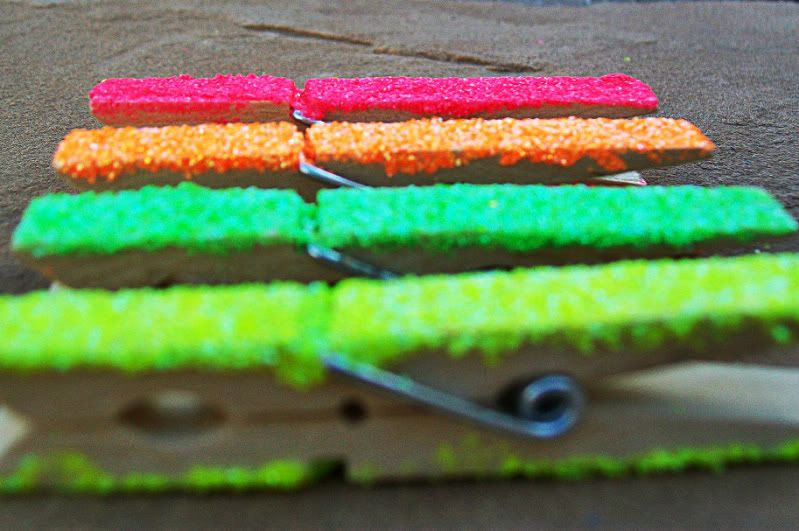 I have some strange obsession with clothespins.  I have always seen them as holding so much potential in such a little package.  In the past I have purchased package upon package and then store them until I could conjure up an idea to use them for other than laundry or food storage.
Finally, I gave into a simple idea I have had for years but never accomplished.  Glitter clothespins.   I don't need glitter clothespins and I don't have an amazing Pinterest project waiting on the sidelines for the finishing touches of sparkling clothespins so when making these I knew they had no true purpose.
I don't care.  I had pretty glitter and I wanted to use it….. Apparently I am four.
If you want to get in touch with your childish side these are incredibly easy to make.
HOW TO:
Simply coat each side with matte Mod Podge and then dip into fine/dust glitter.  I used JoAnns generic brand because Martha's is overpriced.  After they have dried I sealed the clothes pins with a light layer of the Mod Podge in the spray can.  
Now I have four clothespins eagerly awaiting a purpose.  I am sure these would make great little add-ons to homemade gifts.
Now, the winner of the Post giveaway is:Leah M.  (check your email)!