The first things first, this is NOT butter.  I always believed that when a recipe had butter in the title than there must be something in it that is dairy.
It's a lie.
The butter in Apple BUTTER is a lie.
Liar or not, the stuff is good and incredibly easy to make.  I found the recipe on Pick Your Own.org, a great resource.

 The ingredients that you need for Homemade Apple Butter:
Applesauce – fresh or Canned
Cinnamon
Ground Cloves
Sugar
Crock-pot
I am going to give you a brief How To make the Apple Butter because I made a few mistakes in the recipe provided on Pick Your Own.
1. They recommend 9 quarts of applesauce.  My crockpot is not big enough to handle 9 quarts or 288 ounces of Applesauce so I cut it in half.  I used 3 quarts of Applesauce. I also chose to use jarred Unsweetened Applesauce. I did not have the time, patience, or cash to purchase that many apples to make my homemade applesauce. I'm lazy so sue me.
2. Pour 3 quarts (96 ounces) of Applesauce into the crock-pot.                                        Add 1 tablespoon of Cinnamon, 1/2 teaspoon Ground Cloves, 1/4 teaspoon of Allspice (Remember I halved the recipe) I did NOT remember to halve the sugar. They recommended adding half of the sugar now and the rest later. Nope, I added FOUR cups of sugar.  Maybe I added the sugar unintentionally because I was not paying attention or I subconsciously decided that four cups of sugar was exactly what it needed.  We may never know but whatever the reasoning we will have to live with the results.
3. Stir together and set on low and walk away.  I recommend starting in the evening and leaving it on all night into the next day.  The last hour I turned it up on high. It should look very dark by the end.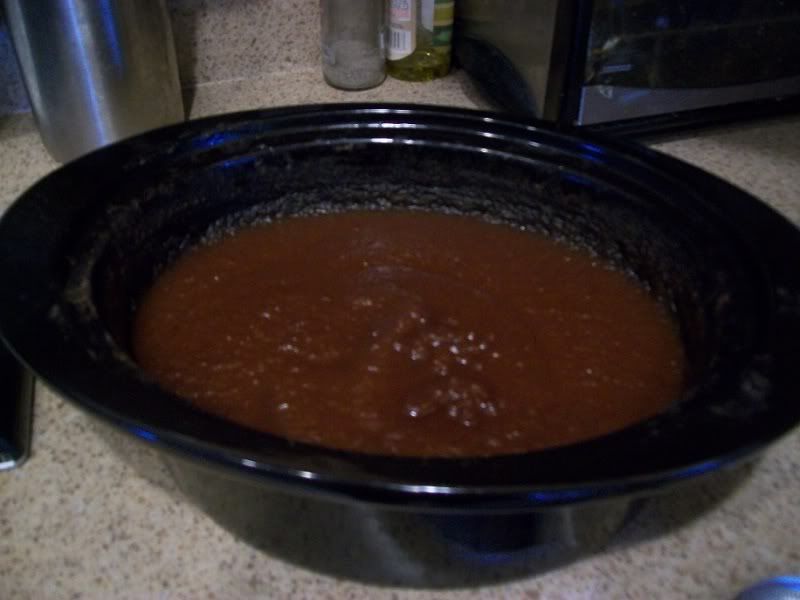 4. I was a little worried that the "butter" was not thick enough.  However, it coated the back of my spatula and was slow to drip off.
Now to start canning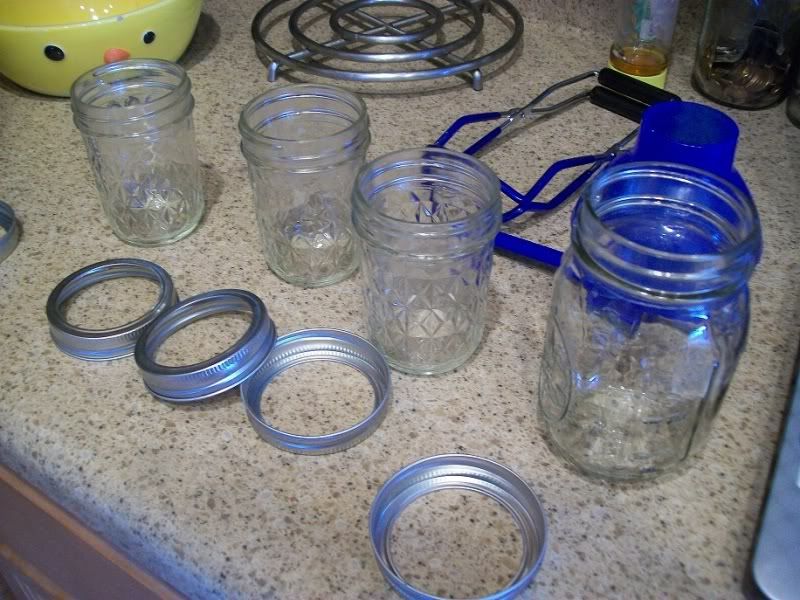 You will need a basket to place the jars in a pot of boiling water
Jar graber (technical name – If you are purchasing one be sure to ask for the Jar Graber)
Funnel
Lids that are sterilized and jars that are sterilized.
Check out Pick your own for the exact details.
Ta-Da! Finished product! (ignore the spices)

After 15 minutes in the boiling water I had some of the best Homemade Apple butter! I could not honestly believe how easy it was to make and the taste was astonishingly great! It is probably the sugar but who cares, I love it!